Spiced Potato & Peas
By yasmine • February 22, 2022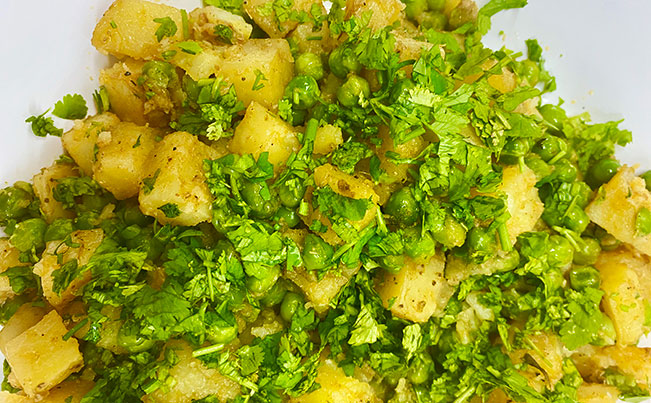 This spiced potato and peas recipe is the perfect side dish for any protein. It is filling, heartwarming and deliciously spiced, your family and friends will definitely be taking seconds.
Ingredients
3 tablespoon

olive oil - زيت زيتون

5

garlic clove (minced) - فص ثوم

2 medium

potatoes (peeled and cut into cubes) - بطاطس

1 1/2 tablespoon

ground coriander - كسبرة ناشفة

1 teaspoon

paprika - بابريكا / فلفل أحمر

salt and pepper - ملح و فلفل

1 cup

peas (frozen or fresh) - بسلة

1 handful

parsley (finely chopped) - بقدونس
Step by step
Start by prepping the potatoes and placing the cubes in the lukewarm water for 1 hour.
Heat olive oil in a large pan. Add minced garlic and keep heat to medium.
Stir in drained potato cubes. Sprinkle ground coriander, paprika, salt & pepper. Stir to make sure all cubes are covered in spices. Lower heat and cover.
Ten minutes later, add peas and stir. Cover again for another 10-15 minutes, until vegetables are cooked through.
Sprinkle chopped parsley and stir. Take it off the heat and serve hot.