Dried Fruits Crumble
By yasmine • March 16, 2022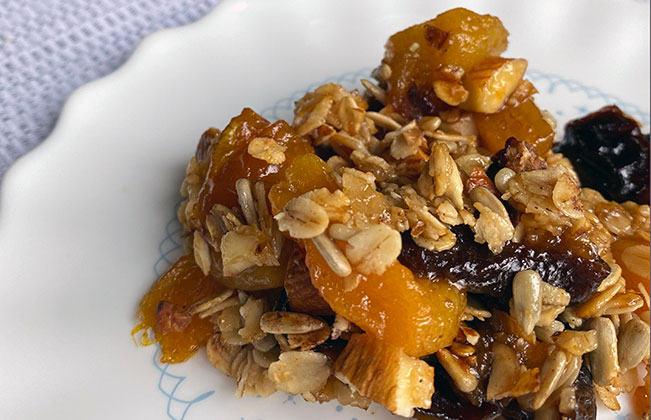 Here is a Dried Fruits Crumble that can be served as dessert with ice cream, a brunch dish, a winter warmer or an addition to your yoghurt.
It is infused with tea, preferably Earl Grey, and the nutty crumble topping spiced with cinnamon.
It is a great dish for Ramadan Sohour as well where we have abundance of dried fruits and are in need for fibre and energy foods.
Ingredients
1 cup

oats - شوفان

1 cup

dried prunes (deseeded & sliced)

1 cup

dried apricots (deseeded & sliced)

1/2 cup

raisins - زبيب

2 teaspoon

tea (or 2 teabags) - شاي

4 tablespoon

raw honey (divided) - عسل نقي

2 tablespoon

coconut oil - زيت جوز الهند

1

raw nuts (AND seeds, roughly chopped) - مكسرات

pinch

salt - ملح

1 teaspoon

cinnamon powder - قرفة
Step by step
Add 11/2 boiling water to a medium sauce pan. Stir in tea and sweeten with 2 tablespoons honey.
Add the sliced dried fruits, then place pan on medium heat and cover. Let it simmer for 10 minutes until dried fruits are softened.
In the meantime, mix oats, nuts, 2 tablespoons honey, coconut oil, cinnamon and salt.
Preheat oven to 180C.
Place dried fruits (without excess water) at the bottom of a medium oven dish or Pyrex and distribute evenly.
Place oat mix on top and distribute evenly.
Just before serving, preheat oven to 180C. Then place dried fruit crumble in the oven for 20 minutes.
Serve warm next to ice cream or greek yoghurt. It can also stay up to a week in the fridge and serve like a granola with milk or yoghurt.