Creamy Two Salmon & Onion Lasagne
By Dina Hamdi • February 25, 2019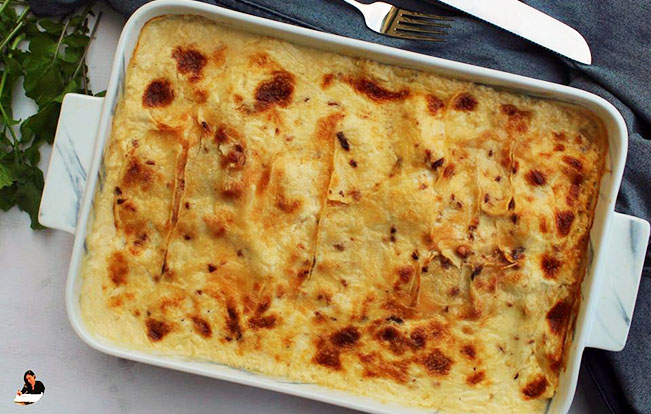 This Creamy Two Salmon & Onion Lasagne is known as Lasagnes Aux Deux Saumons in its native, France.
Recipe is by Dina Hamdi.
This Lasagnes Aux Deux Saumons recipe has been on my to-do-list for a very long time! My inspiration for this recipe was the same dish I tried back in Paris in a restaurant called Pizza Pino.
This lasagne is heart warming. It contains two different types of salmon; fresh and smoked with caramelized onions soaked in a super creamy sauce that combines béchamel with carbonara sauce.
Ingredients
2 1/2 tablespoon

flour - دقيق

1 liter

milk - لبن

2 tablespoon

oil - زيت

1 whole

onion (diced) - بصلة

400 gram

salmon (fresh and cut in cubes) - سمك السلمون

3 slice

smoked salmon - سمك السلمون المدخن

1 liter

cooking cream - كريم الطهي

4

egg yolks - صفار البيض

100 gram

parmesan cheese - جبنة بارميزان

1 pack

lasagne - لازانيا

4 teaspoon

salt and pepper - ملح و فلفل
Step by step
Off the heat, mix the flour with the milk in a medium bowl gradually until smooth.
Place the milk mixture in a pan on medium heat and keep on whisking. Then add cooking cream. Season with salt and pepper to taste.
Turn off the heat and set aside to completely cool down.
In another pan, heat oil on medium heat and saute diced onion. Keep on stirring until it turns to dark golden color.
Add the fresh salmon cubes for a few minutes then add the smoked salmon.
After the béchamel sauce is completely cool, add the 4 egg yolks, and whisk.
In a large baking dish, poor some béchamel sauce and spread it at the bottom. Arrange the lasagne (uncooked) sheets, then the salmon stuffing on top. Add half the Parmesan cheese to the rest of the béchamel sauce then spread a layer and repeat with the lasagne sheets and stuffing. Pour the rest of the Béchamel sauce and sprinkle some Parmesan cheese.
Bake for 30 minutes on 180*C. Serve hot.