One Pot Chicken Freekeh
By yasmine • February 20, 2022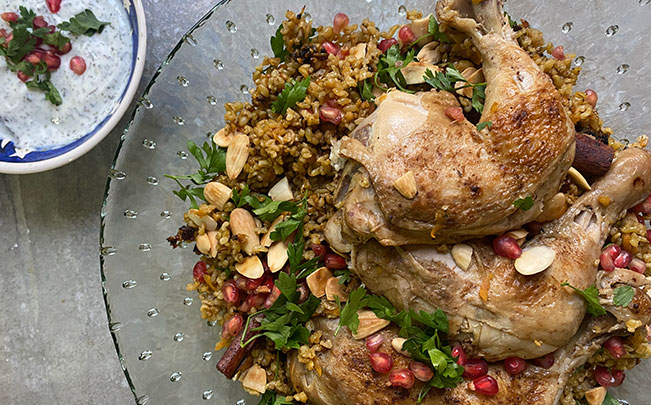 A one-pot meal, this chicken freekeh will be your favourite go to when you want a hearty and delicious meal the whole family will enjoy. You can also serve it in a gathering since it looks lovely in a big dish. Heartwarming, wholesome and delicious the Chicken Freekeh is definitely
Ingredients
3-4 piece

chicken thighs - أوراك الدجاج

1 tablespoon

garlic powder - بودرة ثوم

3 teaspoon

all spice (divided) - بهارات

2 cup

freekeh (washed) - فريك

2 tablespoon

ghee (OR olive oil) - سمن بلدي

1

onion (diced) - بصلة

1 large

carrot (grated) - جزرة

2

cinnamon sticks (or 1/2 teaspoon cinnamon powder) - عيدان قرفة

2-3 piece

cardamom (crushed) - حبهان

salt and pepper - ملح و فلفل

3 cup

chicken broth/stock - مرقة دجاج

2 tablespoon

parsley (finely chopped) - بقدونس

1 tablespoon

almonds (sliced and toasted) - لوز
Step by step
Marinate chicken with garlic powder and 2 teaspoons all spice.
In a large rice pot, melt ghee and fry chicken thighs on all sides until golden (they wont cook through yet). Set aside.
In the same pot, fry diced onions for a few minutes until slightly caramelized. Add grated carrot and stir.
Sprinkle the rest of the all spice, cinnamon sticks and crushed cardamom pods. Stir veggies to combine scraping the pot for the burned chicken bits.
Stir in with the washed freekeh, salt and pepper.
Follow with the broth and bring heat to high in order to bring it to a boil. Then add chicken thighs back on top. As it simmers, lower heat and cover.
Keep it covered as the steam helps the chicken cook properly. After 45 minutes check that the freekeh is cooked and the chicken is soft and tender. Adjust seasoning.
Serve hot in a big serving dish with chicken not top and sprinkle with chopped parsley and toasted almonds.