Easy Shrimp Stir-Fry
By shahdan • April 8, 2015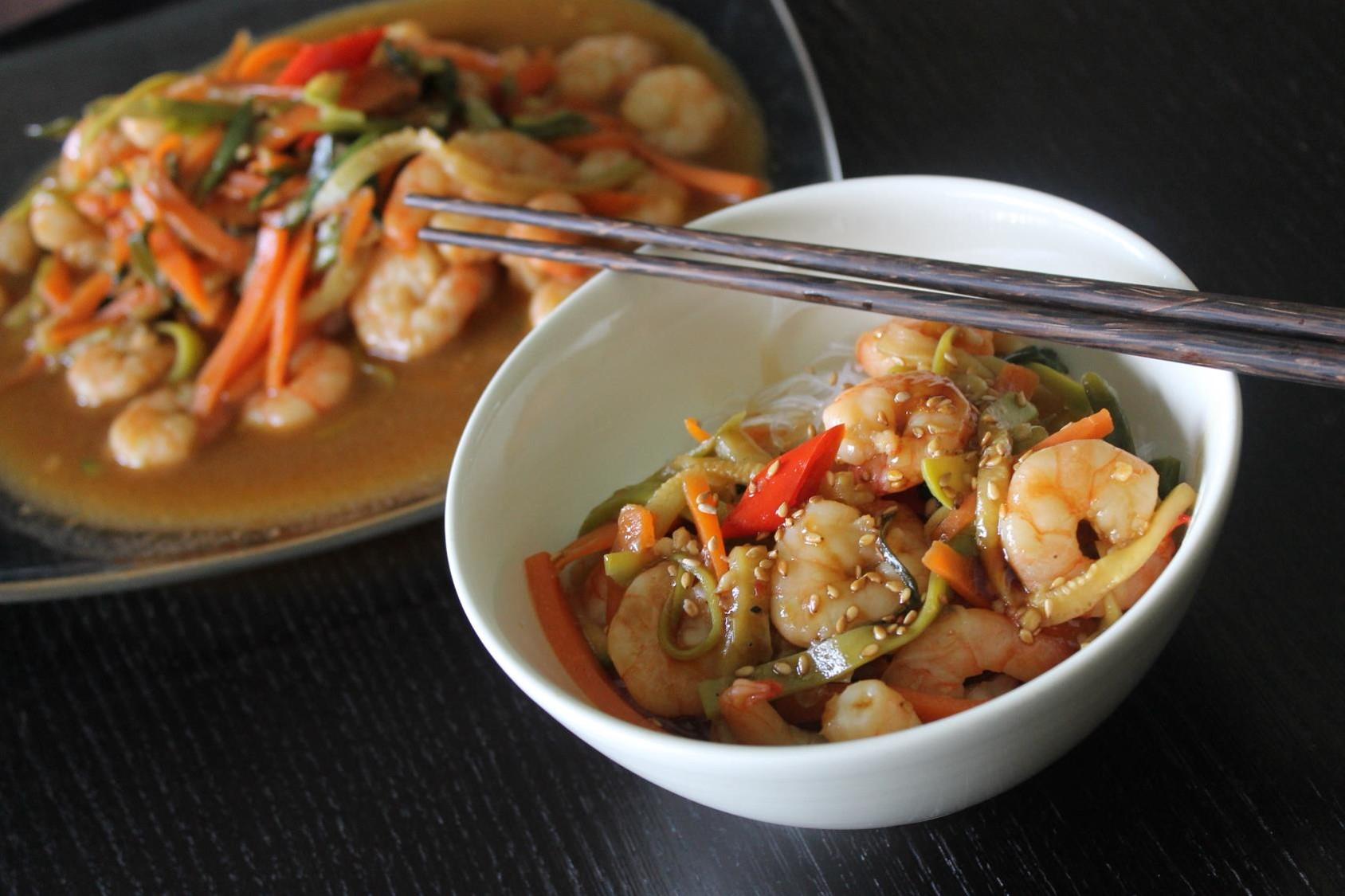 This is a very easy dinner party dish that will wow your guests.  It is also loaded with healthy veggies…  Serve it with glass noodles or white Basmati Rice.
Ingredients
500 gram

shrimp (medium peeled) - جمبري

3 large

carrots (thinnly sliced) - جزر

3 large

zucchini (thinnly sliced) - كوسة

1 cup

spring onion (sliced diagonally) - بصلة خضراء

3 large

garlic cloves (crushed) - فصوص ثوم

1 piece

fresh ginger (about 1 cm piece, grated) - جنزبيل

3 tablespoon

vegetable oil - زيت نباتي

6 tablespoon

light soy sauce - صوص الصويا الخفيف

4 tablespoon

oyster sauce - صوص المحار

1 medium

lemon - ليمون

1 tablespoon

sesame seeds (optional) - بذور السمسم
Step by step
Heat 1 tbsp. oil in the wok or pan, add garlic, ginger and chopped red hot chili pepper (if using any), and stir fry for 30 seconds.
Add the shrimps and stir fry for 3-4 minutes until the shrimps is cooked through (it will turn pink). Remove from the wok and set aside.
Heat 2 tbsps. oil and add the carrots, zucchini and spring onions. Stir fry for 2-3 minutes.
Add the shrimps and its juices.
Stir in the soy sauce, oyster sauce, and juice of one lemon and cook until heated through.
Serve with white basmati rice or glass noodles. (Glass noodles is soaked in hot boiling water from the kettle for 3 minutes or until nice and soft, then water is drained and you have ready noodles.)
Optional: You may toast 1 tsp. sesame seeds and sprinkle on top if you fancy the sesame taste and aroma. Sesame seeds are toasted in a dry pan over low-medium heat for 3 minutes or until lightly browned. You need to be present and shake the pan occasionally so they don't burn.