Butter & Herb Smashed Potatoes
By shahdan • October 28, 2018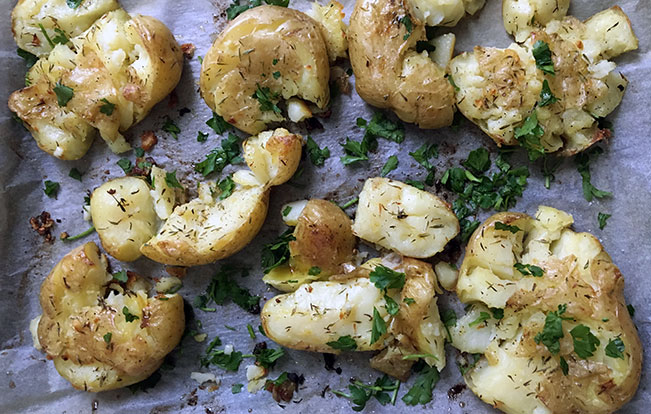 These Butter & Herb Smashed Potatoes are a joy to prepare and to eat. There is something comforting about smashing the boiled unpeeled potatoes before roasting, and brushing them with the butter, garlic and herb mixture.
They crisp up from the outside, while the inside stays soft and creamy, making it a delicious comfort food served on its own (sour cream and chives on the side) or next to your favourite protein and green salad.
Ingredients
8 small

potatoes - بطاطس

3 tablespoon

butter (melted) - زبدة

2 large

garlic cloves (minced) - فصوص ثوم

1 teaspoon

oregano - أوريجانو/ زعتر

1 handful

parsley (to garnish) - بقدونس

salt and pepper (to taste) - ملح و فلفل
Step by step
Wash potatoes and place them unpeeled in a large pot covered with water. Leave to boil on medium heat until soft from inside. Drain and set aside.
Preheat oven to 200C. Arrange potatoes on lightly greased baking tray. Using a potato smasher or a fork, press on each potato to flatten making sure each potato still holds its shape as one piece.
In a small bowl, mix melted butter with garlic and oregano.
Generously brush potatoes with the butter mixture. Don't discard any leftover butter.
Season potatoes with salt and pepper and bake until golden crisp from outside (10-15 minutes depending on your oven). You may use the grill in the last 2 minutes.
Arrange on serving plate. Brush with any leftover butter and garnish with fresh parsley.