Light Yoghurt & Freekeh Soup
By yasmine • May 26, 2015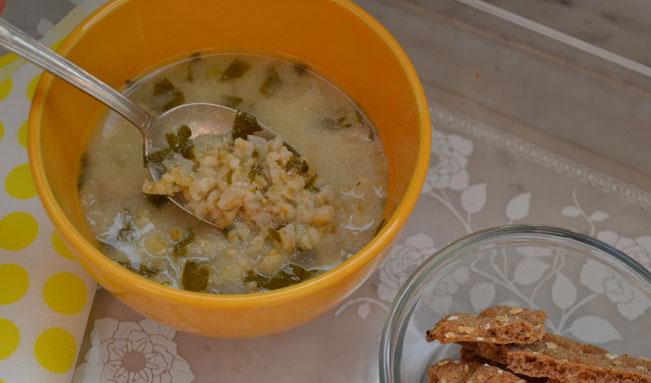 This light yoghurt & freekeh soup reminds me of my childhood. (That one and the Harira Soup). I remember how my family used to gather around it in Ramadan while listening to the radio riddle at Iftar. Until today it still warms my heart with its creaminess and smooth taste and I cannot enjoy Ramadan without having it at least 5 times – in my home, at my sister's or my mum's. We take turns on making it! While I put so much passion to perfect it, I never enjoy my own like I do theirs!
Ingredients
2 small pack

yoghurt (about 220 grams) - زبادي

1

egg - بيضة

2 tablespoon

butter (OR olive oil) - زبدة

3 cup

chicken broth/stock - مرقة دجاج

1

onion (diced) - بصلة

2

garlic clove (minced) - فص ثوم

2 piece

mastic / mesteka - مستكة

2 stem

celery (finely chopped including leaves) - كرفس افرنجي

1/2 cup

freekeh - فريك

salt and pepper - ملح و فلفل

1 tablespoon

dried mint (for garnish) - نعناع مجفف/ ناشف
Step by step
In a large soup pot, melt the butter and add the onions. Cook the onions until translucent (about 7 minutes) then add the garlic, celery and mastic along with some salt and pepper.
Stir in the freekeh, then add hot chicken broth. As soon as it boils, put the heat down, cover and let it simmer until freekeh is cooked (about 20 minutes).
In the meantime, stir egg with yoghurt until smooth and well integrated.
Before adding the yoghurt mixture to the soup, add a little hot soup to the yoghurt mix to warm it. This is done mainly to avoid the room temperature yoghurt from splitting when hit with the hot soup. When you feel the yoghurt has warmed, add it confidently to the rest of the soup.
Let it simmer for another 3 minutes until the egg cooks. Sprinkle some dry mint and serve hot.