Veggie-Filled Chicken Burger
By Najla Moussa • January 29, 2019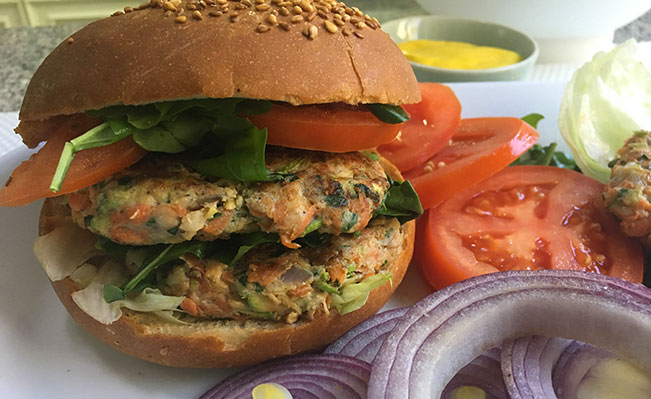 A hit with kids and adults alike, these Veggie-Filled Chicken Burgers are so delicious you wouldnt think they're healthy too!
Ingredients
500 gram

chicken breast - صدور دجاج

2 large

carrots (grated) - جزر

3 small

zucchini (grated) - كوسة

1 handful

coriander (finely chopped) - كزبرة

1 large

onion (diced) - بصلة

2 large

garlic clove (minced) - فص ثوم

2 large

egg yolks - صفار البيض

1 tablespoon

black pepper - فلفل أسود

1 tablespoon

salt - ملح

1 tablespoon

coconut oil - زيت جوز الهند
Step by step
Mince chicken breasts in a blender.
Add grated carrot, zucchini, corriander, garlic and salt and pepper to the minced chicken and use your hands to combine.
Beat egg yolks until smooth then add to chicken-veggie mix.
Take handfuls of the mix, roll into balls then slightly press down on the top of the ball to turn into the shape of burger patties. Refrigerate for an hour or until next day.
Heat coconut oil in a large pan. Pan-fry patties on medium heat on both sides until cooked through (about 12 minutes).