Shredded Carrot & Coriander Salad
By yasmine • April 15, 2015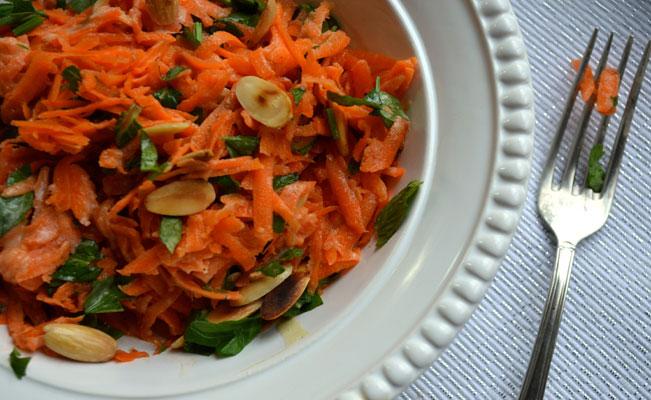 This is originally a Gordon Ramsay recipe for outdoor picnics and summer activities. However, we do it any time of the year and enjoy it indoors. We love its crunch and colours and zesty sweet taste.
You can replace the almonds with pumpkin or sunflower seeds – the idea is to have that nutty crunch in it. I use a honey mustard vinaigrette with it cause it highlights the sweetness of the carrots and adds a fresh tang.
Ingredients
5

carrots (shredded) - جزر

1/2 cup

coriander (chopped) - كزبرة

2 sprig

mint (chopped) - نعناع

1

orange zest (optional) - قشر برتقال

1 handful

almonds (toasted) - لوز

DRESSING:

1/4 cup

olive oil - زيت زيتون

1 tablespoon

vinegar - خل

1 tablespoon

Dijon mustard - مسطردة ديجون

1 tablespoon

honey - عسل
Step by step
Mix the mustard vinaigrette dressing ingredients well and set aside.
Add the orange zest to the shredded carrots (I used my spiral for the shredding to get circular looking shreds). Then add the greens and toss it to distribute the greens.
Add the dressing and toss it again before putting some toasted almonds (or pumpkin or sunflower seeds) on top.