Special Minty Zucchini
By yasmine • November 12, 2015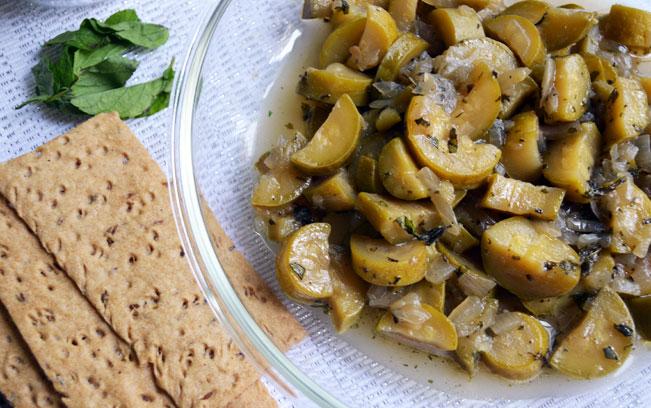 This is a simple yet delicious vegetable dish using ingredients available in your pantry for everyday cooking. It's a fresh change to the traditional tomato-based zucchini. The Minted Zucchini is also a tasty dish for those detoxing or refraining from protein and carbs. Otherwise, serve it with your favorite protein and rice for a complete meal.
Ingredients
2 tablespoon

olive oil (OR 1 tablsepoon olive oil & 1 tablespoon butter) - زيت زيتون

1 large

onion (minced) - بصلة

2

garlic cloves (minced) - فصوص ثوم

1 kg

zucchini (cut in half circles) - كوسة

salt and pepper - ملح و فلفل

1 cup

chicken broth/stock (or vegetable stock) - مرقة دجاج

11/2 tablespoon

dried mint (OR 5 sprigs fresh mint chopped) - نعناع مجفف/ ناشف
Step by step
On medium heat, add olive oil and butter to a casserole and sauté the onions until translucent (about 8 minutes) - don't let it darken.
Add minced garlic followed by sliced zucchini, salt and pepper. Stir well for a couple of minutes.
Add warm broth and bring it to a boil. Put heat down, cover the casserole and let it simmer for 15 minutes or until the zucchini is tender.
Add mint and let it cook for another 3 minutes. Serve warm with rice or crispy bread.