Lemon Butter Chicken
By Nada Khaled • December 3, 2015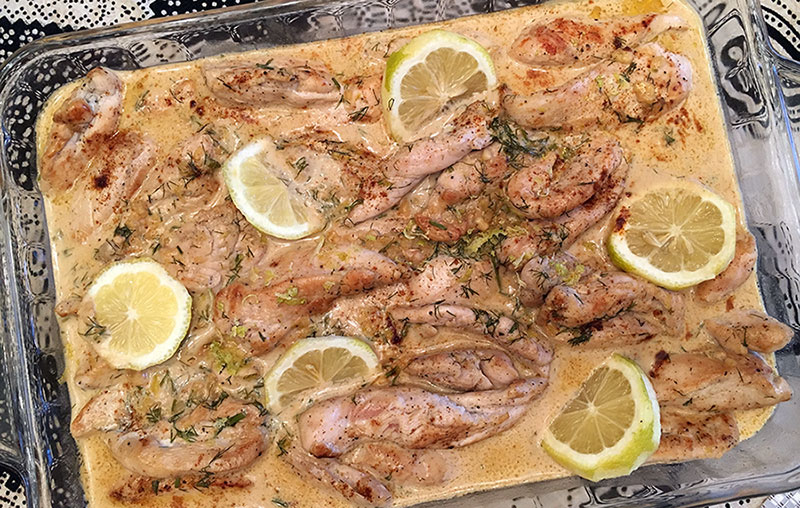 A new, moist and buttery take on a classic chicken dish.
Recipe uploaded by Nada Khaled.
Ingredients
3 large

chicken breast (fillets) - صدور دجاج

1 teaspoon

paprika - بابريكا / فلفل أحمر

1 teaspoon

garlic powder - بودرة ثوم

3 tablespoon

butter - زبدة

1 cup

chicken broth/stock - مرقة دجاج

3/4 cup

cooking cream - كريم الطهي

2 tablespoon

coriander (freshly chopped) - كزبرة

1 tablespoon

flour - دقيق

3

garlic clove (minced) - فص ثوم

3

lime (juiced) - ليمون بلدي

salt and pepper (to taste) - ملح و فلفل
Step by step
Cut the chicken breasts vertically.
Season the breasts with salt, pepper, paprika and garlic powder.
Melt 2 tablespoons butter in a pan and fry chicken breasts until golden on all sides (it doesn't need to be fully cooked). Remove and set aside.
Add the remaining butter to the pan and followed by the minced garlic. One minute in, add lime juice, the chicken broth, cooking cream, coriander and flour. Stir well.
As soon the sauce starts boiling, turn down the heat and leave it to simmer for a couple of minutes.
Preheat oven to 200C.
Return the chicken to the pan and bake in the preheated oven for 20-25 minutes (until cooked through). Serve warm.