Garlicky Pasta with Cauliflower & Peas
By yasmine • November 14, 2018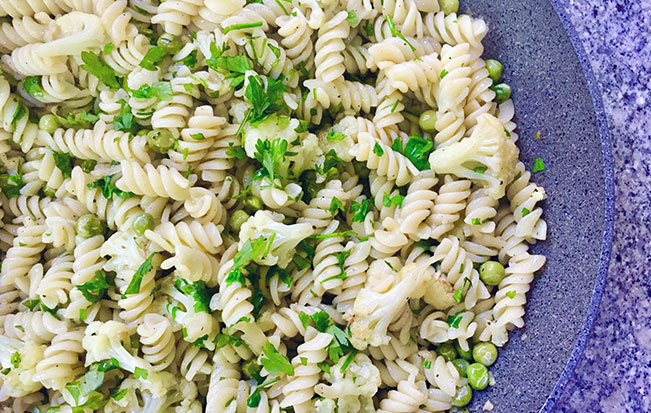 Super delicious and comforting, this Garlicky Pasta with Cauliflower & Peas is just the right winter carb. We chose Fusilli for this dish because of its spiral/ textured shape which helps the pasta to better hold onto the sauce with its simple yet flavourful ingredients.
Prepare it for a heartwarming dinner then take leftovers (if any are left!) into your lunchbox the next day. It is a filling meal in a bowl.
Ingredients
200 gram

pasta (half a pack) - معكرونة

4

garlic cloves (minced) - فصوص ثوم

1/4 cup

peas - بسلة

1/2 cup

cauliflower (small florets) - قرنبيط

salt and pepper - ملح و فلفل

handful

parsley (finely chopped) - بقدونس

a drizzle

cooking cream (optional) - كريم الطهي

1/4 cup

parmesan cheese - جبنة بارميزان
Step by step
Place pasta in a medium pot and cover with hot water. Bring it to a boil then bring heat down to medium/low and let it simmer until cooked through.
In the meantime, heat olive oil and butter in a large pan. Sauté garlic for a couple minutes.
Add peas and cauliflower florets. Season with salt and pepper and stir to combine.
Use a ladle to transfer about half cup water from the pasta to the vegetables. Let it come to a simmer, lower heat and cover until cooked through (about 10 minutes).
Drain cooked pasta and add it to the vegetables. Drizzle cooking cream if using any. Stir and adjust seasoning.
Sprinkle chopped parsley and take it off the heat. Serve in a pasta bowl sprinkled with grated cheese.