Wholesome Black-Eyed Pea Salad
By shahdan • September 22, 2016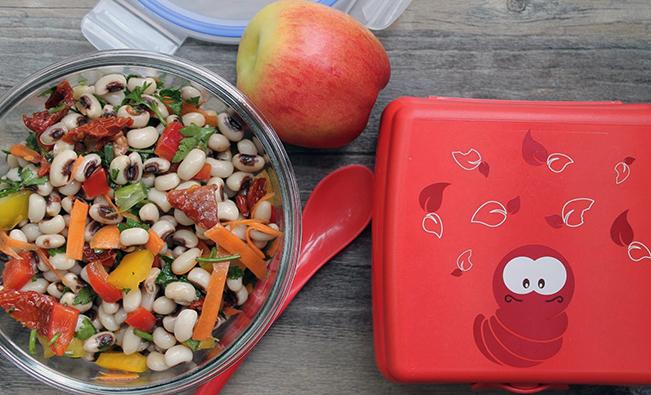 It's time to give black-eyed peas a chance since it is creamy, nutritious and full of goodness and absolutely delicious. Black- eyed peas make great stews with tomato sauce as well as comforting salads like this simple lunchbox favorite.
As wholesome as it is, it is also much cheaper than more sophisticated salad ingredients like quinoa!
You can use this recipe as a guide & tailor it to your own liking, adding all your kids' favourite ingredients such as cucumber, cherry tomatoes, olives…etc.
You need to soak the black-eyed peas for a few hours (preferably overnight) to help them cook quicker.
Ingredients
1.5 cup

black-eyed peas (about 250g - soaked in water) - لوبيا

1 large

carrot (grated) - جزرة

1/2 large

yellow pepper (cut into small cubes) - فلفل أصفر

1/2 large

red pepper (cut into small cubes) - فلفل أحمر

1 stem

spring onion (finely chopped) - بصلة خضراء

3 tablespoon

sun-dried tomatoes (thinly sliced + 1 tbsp of its oil) - طماطم مجففة

1/2 bunch

parsley (finely chopped) - بقدونس

DRESSING:

2 tablespoon

extra virgin olive oil - زيت الزيتون بكر

2 tablespoon

vinegar - خل

2 large

lime - ليمون بلدي

sea salt (to taste) - ملح البحر

black pepper (to taste) - فلفل أسود
Step by step
Drain soaked black-eyed peas and rinse with fresh water. In a pot, cover them with water and leave them to cook on medium/high heat for 20-30 minutes or until soft from inside yet still firm.
In the mean time, prepare and chop all your other ingredients.
When the black-eyed peas are cooked, drain water and rinse with fresh water again. Stir in the dressing ingredients and sundried tomato oil and leave to cool.
As the black-eyed peas reach room temperature, add all the chopped veggies and sundried tomatoes. Toss together, adjust seasoning and store in a sealed box in the fridge. This salad tastes even better the following day! It can stay up to 3 days in the fridge.