Vegetable Turmeric & Coconut Dahl
By shahdan • October 2, 2017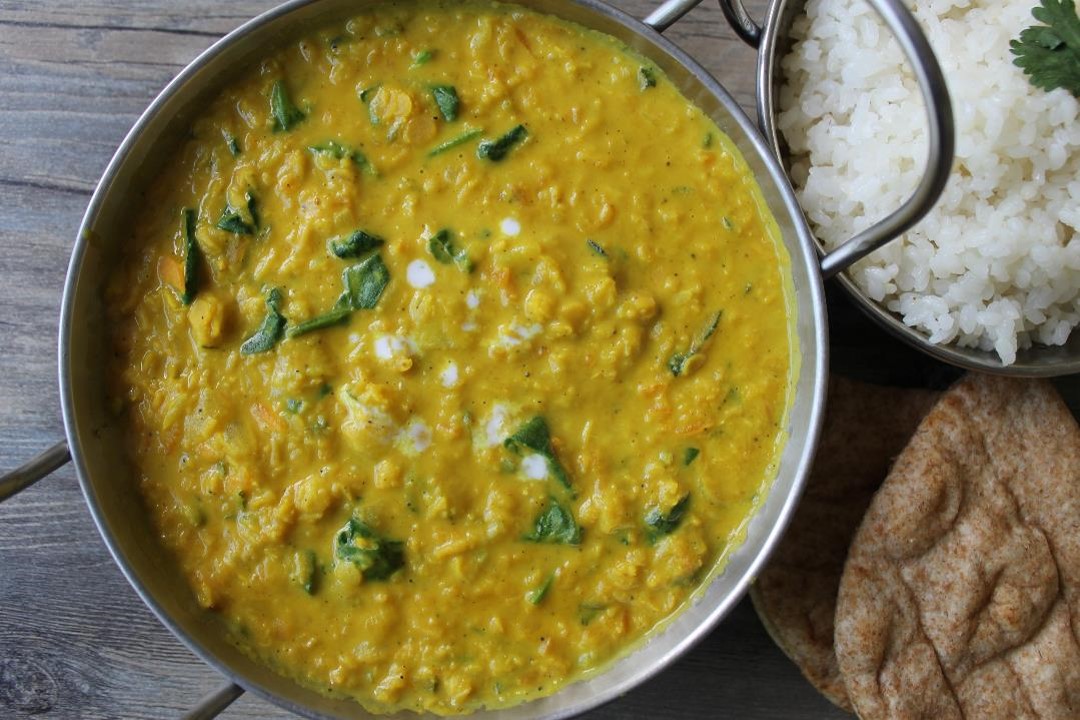 Simply served over white rice, the Vegetable Turmeric & Coconut Dahl makes such a hearty vegan home-cooked meal.
Ingredients
1 tablespoon

olive oil - زيت زيتون

1 small

onion (thinly sliced) - بصلة

1 large

carrots (grated) - جزر

2 medium

zucchini (grated) - كوسة

2 small

garlic cloves (minced) - فصوص ثوم

1 teaspoon

fresh ginger (grated) - جنزبيل

3/4 teaspoon

turmeric - كركم

1 cup

yellow lentils - عدس أصفر

2 cup

water - ماء

1 cup

coconut milk - لبن جوز الهند

2 handful

spinach - سبانخ

salt and pepper (to taste) - ملح و فلفل
Step by step
Heat olive oil in a medium pot. Sauté sliced onions for about 4 minutes on low heat. Add grated carrots and zucchini and sauté for another 3 minutes.
Add minced garlic, ginger, turmeric, salt and pepper and stir for another 3 minutes.
Add lentils and water, let it come to a boil then lower the heat to medium-low, half cover, and let it cook for 10-15 minutes.
When lentils are almost cooked and water reduced, add the coconut milk and let it simmer further until the lentils are soft. This Dahl needs to be a little saucy so you might need to add a little water if needed.
Turn off the heat, add spinach and cover. Spinach will be wilted from the heat within 2 minutes. Give it a quick stir, adjust salt and pepper if needed. Serve with white rice or brown bread.