Salted Pretzel Rocky Road Bites
By shahdan • March 5, 2016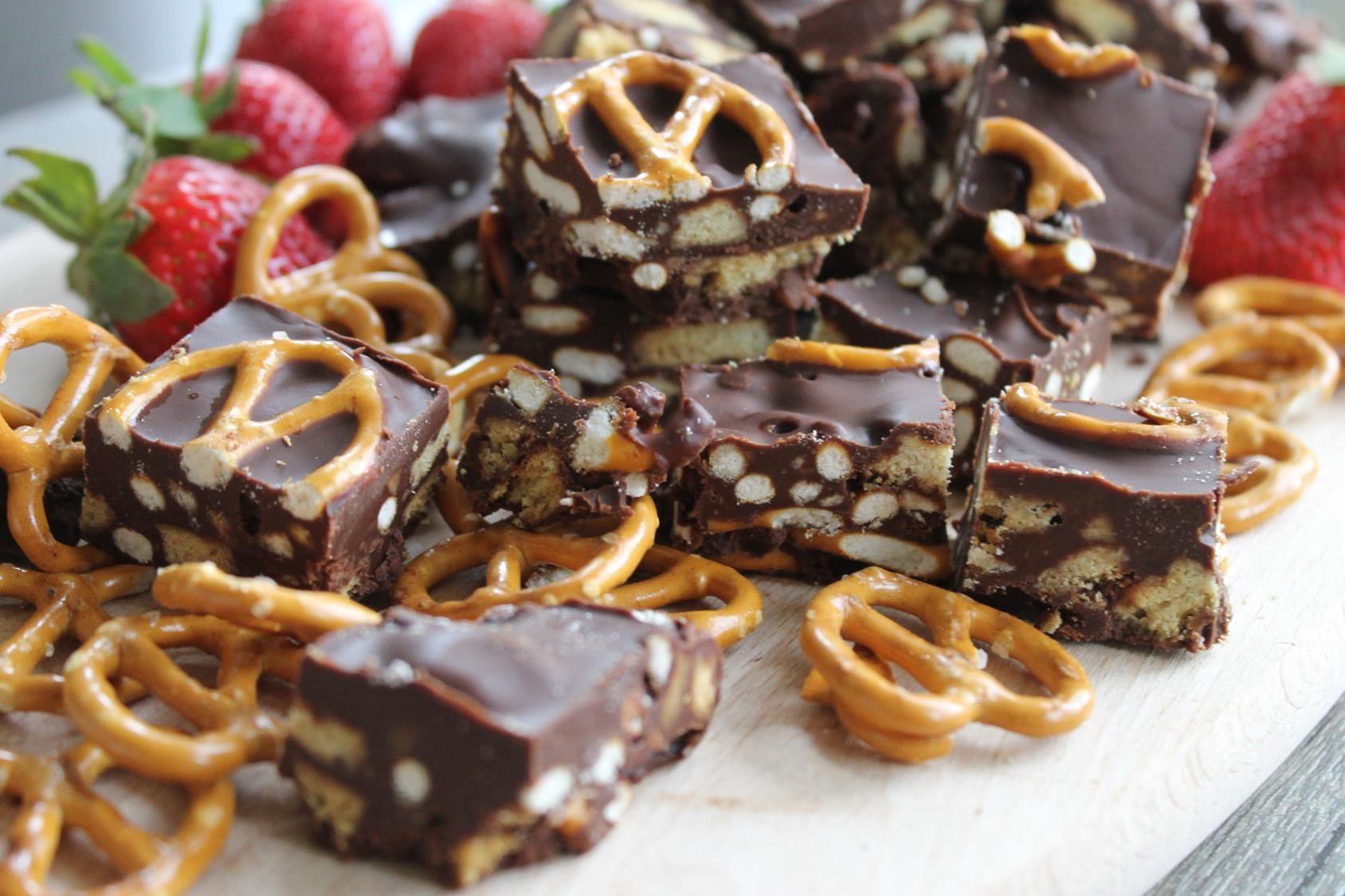 This recipe is adapted from Nigella Lawson's famous Rocky Road Crunch Bars.
For the love of salted chocolate, I decided to use Nigella's chocolate- butter ratio, but drop the marshmallows and add lots of salted pretzels instead. I also used 1 tablespoon of honey to substitute for 3 tablespoons golden syrup. The result is out of this world salted chocolate bites! Just what I need with a cup of coffee!
(Preparation time does not include refrigerating time).
You will need a lined loaf pan about 30×15 cm or a square pan 20×20 cm. You can use a foil tray.
Ingredients
300 gram

dark chocolate - شوكولاتة غامقة

125 gram

butter - زبدة

1 tablespoon

honey - عسل

6

biscuits (digestive or similar brand) - بسكوت

1.5 cup

pretzels - برتسلز
Step by step
Break the chocolate with the butter in a bowl. Place the bowl over a simmering pot of water, and gently stir until the chocolate and the butter have melted. Remove from heat, and add honey. Reserve half a cup of chocolate sauce on the side.
Place the biscuits in a bag and break them into pieces (chunks and crumbs). Do the same with the pretzels but break them into larger pieces (after you reserve some for decoration).
Fold the biscuits and pretzels into the chocolate mixture and gently mix until well-combined.
Line a small tray with parchment paper or use a foil tray. Transfer the mixture to the tray and use a spoon or spatula to spread it evenly. Add the rest of the chocolate sauce on top and garnish with pretzels.
Refrigerate for 2 hours. Gently remove from the tin, place on a chopping board, and use a sharp knife to cut into bite-size pieces! Store in a box, preferably refrigerated!