Eggplant & Shrimp Farfalle
By Loai Emad • February 24, 2016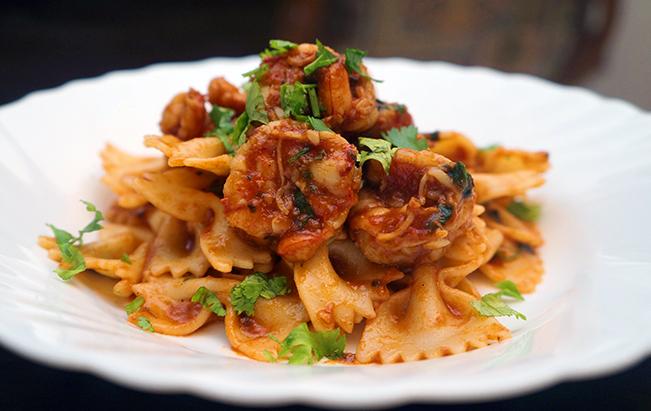 This recipe is an entry to #MyBestDish competition in collaboration with Easy-Pan.com.
Easy and quick Shrimp pasta with a twist.
Ingredients
2 piece

garlic cloves - فصوص ثوم

2 cup

pasta - معكرونة

1 drizzle

olive oil - زيت زيتون

1 handful

eggplant - باذنجان رومي

1 handful

cilantro - كزبرة

6 piece

shrimp - جمبري

1 cup

tomato sauce - صلصة طماطم

1/2 cup

corn oil - زيت ذرة

salt and pepper (to taste) - ملح و فلفل
Step by step
Cook pasta as per pack directions.
In the meantime, fry eggplant cubes in hot corn oil for about 3-4 minutes or until slightly golden. Drain eggplants over kitchen paper from excess oil and set aside.
Heat a stir-fry pan on medium heat and add olive oil. Add minced garlic. Before it turns yellow, add shrimps and cook for about 3 minutes before adding tomato sauce and fried eggplants. Bring mix to a boil. Season with salt & pepper.
Add chopped cilantro and let the whole mix simmer for 3 minutes on low heat.
Add cooked pasta to the tomato mix, give it a final stir to combine and serve warm.