An Inspiration to Healthy Cooking – Shewekar ElgharablyBy CairoCooking • October 5, 2015
CairoCooking's 'In your kitchen' series aims to inspire food lovers by presenting passionate home cooks while they prepare their unique dishes.  In doing so, we couldn't ignore the whole healthy cooking wave – as mothers are refraining from saturated fats and excessive sugars while adding more greens and veggies into their family dishes. We couldn't just present you with some ordinary healthy recipes, we wanted to present to you a whole cooking style that does not just refrain from empty calories but also incorporates common wholesome ingredients  into nutritious yet delicious dishes that your family will actually crave and your guests will be amazed by.
Shewekar Elgharably's cooking is an eye-opening experience to everything that is fresh, healthy, and nutritious. She is an inspiration to good eating and living. At her household, salt is not just salt but exquisite sea salt, and sun-dried tomatoes do not come from a jar but from local farmer's produce. Shewekar's kitchen is all about nutritious ingredients that come from nature, in its most raw forms. She opts for home-made rather than manufactured, avoiding ingredients with added preservatives. She is keen to shop for her fresh ingredients from farmers' markets and from small producers who value quality non-chemical products. Mentioning something like a stock cube can make her frown, and needless to say, a microwave is a pleading "no no please, it's so unhealthy!"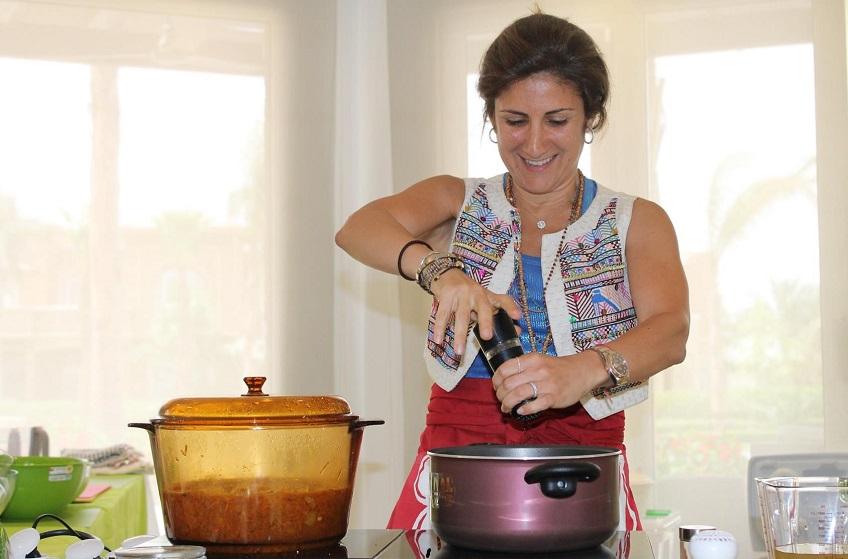 She's is a busy mother of two and the Head Interior Designer of Shewekar ElGharably Design Studio. With a strong interest in wholesome cooking, she recently started a degree in health coaching. Talking about her passion, she likes to refer to herself as a 'health coach' who enjoys and meditates on cooking. It is hard to find the right words to describe Shewekar's passion for cooking.
When she talks about food, her words come from the heart and you see boundless joy and excitement in her eyes. With a life-time interest in cooking, her recipes are well thought of and carefully researched. She relies on simple natural ingredients, chosen selectively for their nutritional benefits, to create out of this world food combinations.
Shewekar's special recipes will certainly inspire you to be more conscious about wholesome and nutritious cooking by limiting your unhealthy carbs intakes- such as white rice, white pasta and white flour- and resorting to other side dishes that are not only more interesting, but also based on healthy grains, fruits, and vegetables. Quinoa, farro, and lentils – are three super grains that form the foundation of her three presented dishes. According to her, these side dishes complement any protein dish you favour and are not only a delicious addition but also good for you and filling. Unlike the unhealthy carbs that are digested quickly and have no health benefits, healthy carbs are digested slowly to keep you fuller longer and are filled with nutrients. While we were in her kitchen, our passionate health coach cooked those exquisite side dishes, and provided us with a long list of healthy yet super hearty recipes!
With the sweet taste of pineapple and the aroma of fresh mint leaves, this exotic quinoa salad takes this new grain to a whole new level. This unique dish is summery, refreshing and hard to resist.
1 cup sliced fresh pineapple

½ cup shallots

1 cup sliced mushrooms

1 tbsp. olive oil

½ cup uncooked quinoa

1 cup finely chopped kale- julienne

Hand- full of fresh mint
For the dressing:
1 tbsp olive oil

¼ cup pineapple juice

2 cm long pineapple slice

1 tbsp apple cider

Salt and pepper
For directions, click here  
Who knew the combination of farro and aubergine can be so hearty? With super available ingredients, this is a side dish that will definitely go on your everyday dishes list!
Ingredients:
1 cup farro

1 big aubergine (cubed)

1 small red onion (finely chopped)

3 tbsp olive oil

1 cup pomegranate

½ cup pine nuts (toasted)

1 cup parsley (chopped)
For the dressing:
Drizzle 

pomegranate molasses

Salt and pepper
For directions, click here
The earthy flavour of lentils, the creaminess of goat cheese, and the sweetness of sun-dried tomatoes make this salad simply irresistible. Serve it with your favourite protein, eat it on its own on your lunch break, or keep it in your fridge for a filling nightly craving.
Ingredients:
1 cup black lentils

Handful chopped parsley

Handful cherry tomatoes- halved

½ cup sun-dried tomatoes

1 medium onion- thinly sliced

Handful green chives (green part of spring onion)

Handful chopped dill

50 grams goat cheese

2 tbsp vinegar

1 tbsp olive oil

Sea salt
For directions, click here
FOR MORE OF SHEWEKAR'S RECIPES CHECK HER BLOG EXCLUSIVELY ON CAIROCOOKING: #HEALTHYROCKS