Warm Freekeh Eggplant Salad
By Shewekar Elgharably • April 14, 2015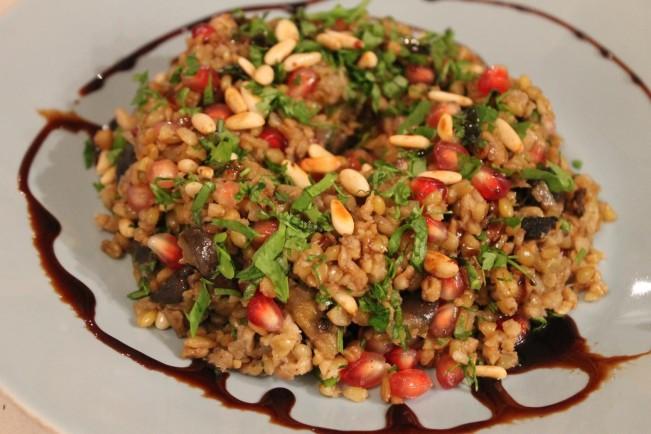 Who knew the combination of freekeh and eggplants can be so hearty? The Warm Freekeh Eggplant Salad is a side dish that will definitely go on your everyday list! It is also an amazing brunch addition and lunchbox favorite.
Recipe by: Shewekar Elgharably from her article with www.cairocooking.com
Ingredients
1 tablespoon

olive oil - زيت زيتون

1 cup

freekeh - فريك

1 large

eggplant (sliced into cubes) - باذنجان رومي

1 small

red onion (thinly sliced) - بصلة حمراء

3 tablespoon

olive oil - زيت زيتون

2 cup

chicken broth/stock - مرقة دجاج

1/2 cup

pomegranate seeds - بذور رمان

1/4 cup

pine nuts toasted - صنوبر

1 cup

parsley (finely chopped) - بقدونس

1 drizzle

pomegranate molasses - دبس رمان

salt and pepper - ملح و فلفل
Step by step
Heat olive oil in a rice pot and sauté sliced onion until soft.
Add one cup freekeh to the onion then pour the stock over the freekeh. Season with salt and pepper.
Bring it to a boil then reduce heat and leave to simmer until cooked and stock is absorbed.
In the meantime, rub eggplant cubes with olive oil, salt and pepper then put it in a 180C oven for 20-25 minutes until roasted.
Mix cooled freekeh with eggplant cubes, pomegranate seeds, toasted pine nuts and chopped parsley.
Drizzle pomegranate molasses on top. Serve warm or cold.