Spinach & Carrot Brown Rice Medley
By yasmine • April 28, 2016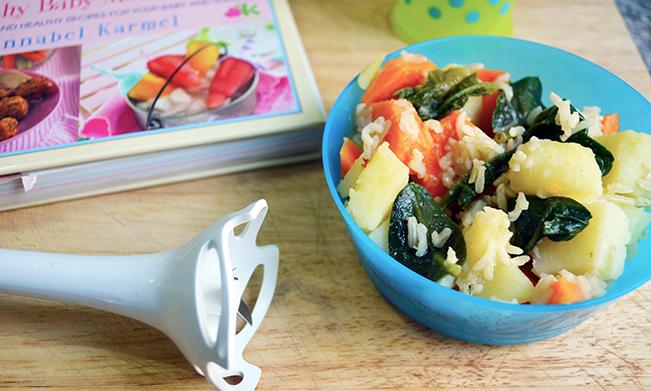 From 9 months.
Like most leafy greens, most doctors allow spinach from 9 months. Spinach is a large source of iron in a time babies start crawling and walking. I used to stuff any of my daughter's food with some spinach leaves – I chop it up and add it to her eggs or to a creamy gratin and or blend it in a homemade fruity juice. This recipe is a yummy example of incorporating spinach.
For more toddler recipes, click here.
Ingredients
2

carrots (peeled and cubed) - جزر

1

potatoes (peeled & cubed) - بطاطس

1 cup

baby spinach (or spinach) - سبانخ صغيرة

3 tablespoon

basmati brown rice - أرز بسمتى بنى

1.5 cup

chicken broth/stock (OR water) - مرقة دجاج

2 tablespoon

cooking cream - كريم الطهي
Step by step
In a medium pot, heat olive oil over medium heat and add rice. Stir for a couple of times, then add carrots, potatoes, and broth/water mix.
Bring pot to a boil then lower heat and cover. Let it cook for 15 minutes until almost cooked through.
Add spinach leaves and cover again for another 5 minutes until veggies and rice are cooked through.
Add one tablespoon cooking cream to each serving (especially when reheating to feed). You can mash the mix with a fork or use a handheld blender for a smoother texture. Serve warm.