Easy Fruity Frozen Yoghurt Cups
By yasmine • October 25, 2016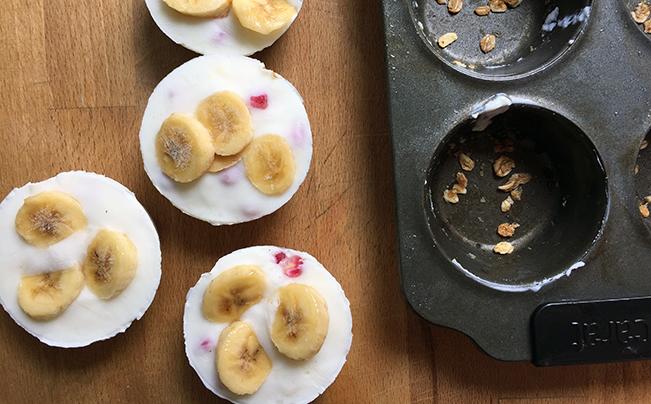 Creamy, sweet, and full of nutritional goodness, these fruity frozen yoghurt cups make a delicious and refreshing breakfast and dinner for kids and adults alike.
Ingredients
3 pack

yoghurt (about 350grams) - زبادي

1-2 tablespoon

raw honey - عسل نقي

3/4 cup

oats - شوفان

1 tablespoon

almond butter - زبدة اللوز

1 tablespoon

coconut oil - زيت جوز الهند

1 teaspoon

mint (finely chopped) - نعناع

1 handful

pomegranate seeds - بذور رمان

1 large

banana (sliced) - موز
Step by step
Mix yoghurt with honey, pomegranate seeds and chopped mint, if using any, and set aside.
Mix oats with almond butter and coconut oil. Place 1 heaped tablespoon of oats mixture in each cupcake cup. Make sure to pat down the oats in each cup to stick it together into a thin layer. Repeat for all 6 cups.
Tip the yoghurt mix over the oats to fill the cups. Garnish with 3-4 thin banana slices.
Place the yoghurt cups in the freezer for a minimum of 2 hours. To serve, place a sharp knife on the side of the frozen yoghurt and push down slowly to help the frozen cups to come out. Serve ice cold.